About Philharmonic
Philharmonic performs compositions by master composers and advanced educational pieces for full symphonic orchestra. Recent performances have included works of Tchaikovsky, Vaughan Williams, Bizet, Grieg, Mussorgsky, and Bernstein.
Philharmonic strings are generally playing 2 or 3 octave scales, are comfortable in first through fifth position and have familiarity up to seventh position. They use vibrato consistently and have facility with some off-the-string bow techniques.
Winds are comfortable in all major keys and can play a full-register chromatic scale. Trumpets and horns are starting to learn some of the most common transpositions. Violas, cellos, bassoons and trombones are developing familiarity in alternate clefs. Some woodwinds can play auxiliary instruments.
• Philharmonic performs 4 concerts per season.
Director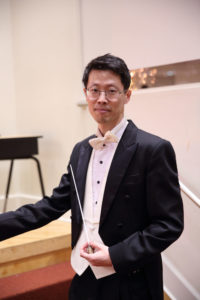 Pyeongkang Park, GYSO's Philharmonic Director, has actively performed as the executive director or conductor in various events such as 9/11 Tribute Concert As 20th Anniversary: Never Forget Prayers for Those Who Grieve, 50th Anniversary of Korean American Association of Greater Atlanta Festival, 100th Anniversary of The March 1st Independence Movement Day Concert, 250th Anniversary of Beethoven's Birthday Concert, 2014 Happy New Year's Concert at the Bacolod City Hall, Philippines among many others.
As one of the winners of the 17th International Conducting Workshop and Competition (ICWC) in Georgia 2020, Mr. Park has been selected as an honorable mention finalist in the college/university orchestra division of The American Prize in 2021. He has participated in the 23rd Conductors Retreat at Medomak with an unprecedented full scholarship in 2019 and the 35th LIU Post Chamber Music Festival, awarding the Conducting Award from 2016.
A native Korean, he is the president of The Korean American Church Musicians Association of Atlanta, contributing to the expansion of music education as the Co-Founder and Judge Panel of the Hwaseong-si Music Competition. In addition, he communicated with the public by serving as a radio host in a classical music instruction segment at Atlanta Radio Korea (AM790) from 2017 to 2020.
Holding a BM in Music Education from Konkuk University in South Korea and MM and Artist Certificate in Orchestral Conducting from Georgia State University, Mr. Park is currently pursuing a DMA in Orchestral Conducting at the University of Georgia with Mark Cedel. His mentors include Michael Palmer, Kenneth Kiesler, Philip Greenberg, and Kynan Johns.
Pyeongkang Park is also currently serving as the music director and conductor of Atlanta Sinfonia.